Women's organization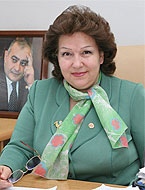 Chairwoman
Hermine Naghdalyan
The work and activities of the Women's Organization is coordinated by its Council, which was launched in 2001. RPA Women's Council acts in compliance with the Charter of the Party .

Working in close cooperation with other structures of the Party, Women's Council focuses on the following:
Dissemination of RPA ideology, implementation of its Charter and Program.
Promotion of Armenian spiritual, cultural and historical heritage based on the idea of eternity of the Nation and the Motherland.
Promotion of important women-related issues such as family, maternity and children based on the principle that every individual, family and the Nation in general have the right to enjoy the advantages of decent existence.
Promotion of democratic and civil society and strengthening of Armenian statehood.
The Staff

RPA Women's Council is represented by 28 members:
Naghdalyan Hermine – Deputy of the National Assembly, Chair of Women's Council, Chair of the Organizational Committee.
Atshemyan Karine – Deputy of the National Assembly of the Republic of Armenia, Chair of the Committee on Cultural Affairs.
Muradyan Ruzanna - Deputy of the National Assembly of the Republic of Armenia, Chair of the Ideological Committee.
Petrosyan Shushan - Deputy of the National Assembly of the Republic of Armenia.
Yesayan Margarit - Deputy of the National Assembly of the Republic of Armenia.
Hovhannisyan Arpine - Vice-President of the National Assembly of the Republic of Armenia.
Nahapetyan Naira - Member of RPA faction in the Council of Elders of Yerevan, Chair of the Committee on Women's Entrepreneurship.
Kushkyan Alina – Head of Erebouni State Medical College, Chair of the Committee on Social Affairs.
Antonyan Gayane - Deputy Head of the Health Care Department of Yerevan Municipality, Chair of the Health Care Committee.
Soghomonyan Gayane
Gharibyan Sona -Senior advisor to the Minister of Defense of the Republic of Armenia
Baghdasaryan Jemma – Deputy Minister of Labor and Social Affairs of the Republic of Armenia
Gasparyan Gayane – Head of Master Studies Department of ANAU, Candidate of Agricultural Sciences
Beglaryan Sona – Head of "Erebuni" branch of "Armbusinessbank" CJSC.
Sayadyan Gayane – Head of the Education Department of the Administration of Armavir Marz, Head of the Committee on Education.
Poghosyan Sona -RA Ararat Regional Administration, Head of Health Department
Eghiazaryan Sima – Chair of RPA Armavir regional Women's Council
Malkhasyan Eleonora – Head of Gavar State Music College, Chair of RPA Gavar regional Women's Council
Khanzadyan Anahit - Head of Vanadzor Music School after Tara Shalyan, Chair of RPA Lori regional Women's Council
Bubushyan Julieta – Staff Secretary of Kotayk Regional Administration, Chair of RPA Kotayk regional Women's Council
Gevorgyan Varduhi – Chair of RPA Aragatsotn regional council
Khachatryan Lyolya – President of the trade union of "Electric Networks of Armenia" CJSC, Chair of RPA Shirak regional Women's Council
Ghazaryan Parandzem - Head of the General Department of the Secretariat of Vayots Dzor Regional Administration, Chair of RPA Vayots Dzor regional Women's Council
Arsenyan Armine – Head of Jermuk High School
Stepanyan Naira – Head of Sisian School N 4
Davtyan Svetlana – Chair of RPA Tavush regional Women's Council
Azizyan Ruzanna- Head of Yerevan School N 11 named after Monte Melqonyan
Tonoyan Marina- Head of Yerevan School N 44

Council Committees:
Organizing Committee
Ideological and Propaganda Committee
Committee on Cultural Affairs
Committee on Education
Committee on Social Affairs
Health Committee
Committee on Women's Entrepreneurship
Committee on enhancing the role of women in the society