Welcome to the official website of the Republican Party of Armenia (RPA).
The Republican Party of Armenia is a national conservative party. Our objectives and mission are supported by the idea of eternity of the Nation and Homeland.

We do hope our website will provide you with all the necessary information on the party's ideological mission, its main objectives and participation in the country's public and political life, the main areas of performance, its achievements and accomplishments as well as future programs and activities.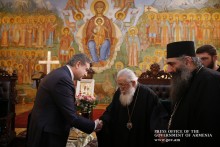 During his official visit to Georgia, Prime Minister Karen Karapetyan was received by Catholicos-Patriarch of All Georgia His Holiness Ilia II. Welcoming the Prime Minister of Armenia, the Catholicos-Patriarch of All Georgia expressed confidence that the Premier's visit would contribute to...
more →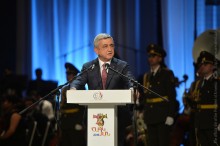 Tonight, President Serzh Sargsyan at the A. Spendiarian Opera and Ballet National Academic Theater was present at the Haykian award ceremony which is aimed at the finding and appreciating the individuals and structures which during the year have made a considerable contribution to the youth...
more →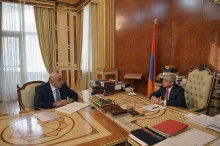 Today, the Minister of Territorian Administration and Development David Lokian reported to President Serzh Sargsyan on the priorities of the Ministry agenda, programs and the process of implementation of the directvies issued by the President of Armenia for their completion. In his report,...
more →