News
IYDU Delegates Held a Meeting with RPA Figures
09.06.2018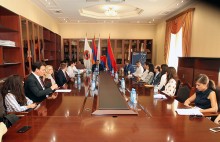 The members of the International Young Democrat Union (IYDU) are in Armenia at the invitation of the Youth Organization of the Republican Party of Armenia. The purpose of the visit is to hold the organization's meeting "Democracy in Action" here.
Yesterday the delegates of the international organization met with former Minister of Defense Vigen Sargsyan, member of the RPA Executive Body. Vigen Sargsyan presented young people the inner-political processes in Armenia, the approaches of the RPA to reality. The members of the delegation asked Vigen Sargsyan questions about Armenia's security issues, allied states, as well as foreign policy.
Members of the IYDU also were received by former Deputy Prime Minister Vache Gabrielyan at the RPA main office. He presented young people the peculiarities and the results of Armenia's accession to international structures, particularly in the Eurasian and European directions. The sides discussed Armenian economic potential for export and import opportunities.
Chairman of the RA NA Standing Committee on Foreign Relations Armen Ashotyan presented the main directions of Armenian foreign policy, issues of parliamentary diplomacy, as well as answered questions about domestic political life at the meeting with the members of the International Young Democrat Union.