News
The President held a meeting with the RPA Women's Council and the regional and district organizations
03.03.2018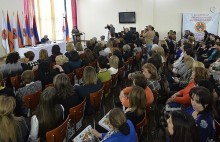 President of the Republic of Armenia, Chairman of the Republican Party of Armenia (RPA) Serzh Sargsyan met today with the members of the RPA Women's Council and the regional and district organizations in Tsaghkadzor within the framework of the seminar organized by the RPA Women's Council. Women representing various political parties in Artsakh also attended the meeting.
During the traditional seminar, party women summarized the results of the work in 2017, after which they discussed the plan of actions for 2018 and the challenges faced by the women's council.
Members of the Republican Party asked the President to share his views and positions on a number of important and contemporary issues of concern. The issues were related to the country's foreign and domestic policies, including the socio-economic situation, reforms in education, demographic issues, etc.
During the meeting, President Sargsyan also handed awards to members of the RPA Women's Council. The President of the Republic awarded the Members of the Women's Council of the Republican Party of Armenia, deputies of the National Assembly Karine Atchemyan and Margarit Yesayan for the active participation in the social and political life of Armenia and the law-making processes. A group of women were awarded with the diploma of the Republican Party of Armenia, letters of gratitude and souvenirs for their party, public-political activities.
The President attached importance to the traditional meetings with the RPA Women's Council, which, in his conviction, give an opportunity to discuss issues of interest to the participants of the meeting, to address the priorities and topical issues of the state's domestic and foreign policy, party activities and programs implemented by women within it.
On the occasion of the meeting Serzh Sargsyan also congratulated those present and all the women of the republic on the upcoming holiday, wishing them happiness, success in work and personal life, stressing that much depends on women's solidarity in the country's success. Noting that women's opportunities are not fully used in our country yet, President Sargsyan underlined that there is still much to be done in that direction.
On the occasion of March 8, the President handed to women presents: an illustrated, magnificent volume of "Encyclopedia of Knowledge" published by Armenian publishers, one sample of which he had received as a gift on the Book Donation Day. Serzh Sargsyan expressed hope that the encyclopedia will be useful and interesting to the members of their families.
The members of the RPA Women's Council thanked the President for an interesting and useful meeting, as well as keeping women's issues in the center of attention and on behalf of the Council handed him handmade gifts from the Togh village art school pupils (Hadrut region of Artsakh).