News
This week the Republican Party of Armenia (RPA) will nominate Armen Sargsyan as the fourth presidential candidate
21.02.2018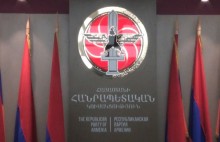 This week the Republican Party of Armenia (RPA) will nominate Armen Sargsyan as the fourth presidential candidate
The Republican Party of Armenia will formally nominate Armen Sargsyan's candidacy for the post of the fourth President of the Republic of Armenia this week. Eduard Sharmazanov, spokesperson of the RPA, announced about it after the session of the RPA Executive Body.
He also added that the RPA will nominate candidates for local self-government electionsin 20 communities.
According to Sharmazanov, besides the RPA, the PAP and the ARF will also nominate candidates for the elections, while the remaining oppositionists have no candidates again.
"This suggests that perhaps they still do not care about the work of the local self-government or there are still no established structures. We are ready for the competition," - he added.
Members of the Supreme Court Council will be elected at the forthcoming four-day sittings. During this week, the NA faction of the Republican Party of Armenia (RPA) will discuss the issue of candidates for members of the Supreme Court Council and will nominate candidates. Eduard Sharmazanov informed journalists that they would be 5 to be elected from February 27 to March 2.
Mr. Sharmazanov reminded that the elections of the next President and the members of the Supreme Court Council will be held via secret ballot in the National Assembly.
"As long as there has not been a final discussion in the faction, I do not consider it appropriate to disclose their names. There are already nominated candidates. I think their presence in the Supreme Court Council of each country would be important," - said Sharmazanov.