News
The action of free medical aid "For you, women" is being carried out from March 8 till April 7
03.03.2014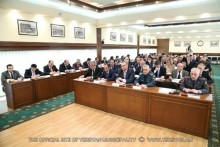 During the regular working conference Yerevan Mayor Taron Margaryan instructed to eliminate all the defects revealed in the process of asphalting provided by the Municipality program in 2012-2013.
Taking into account the arrangements reached with the organization protecting the interests of taxi-drivers, Mayor Taron Margaryan assigned the persons in charge and the heads of the administrative districts to submit proposals on the creation of new parking spots for taxis.
The head of the Department of Trade and services reported that within the frames of the activities of trade regulation in the underground crossings in the administrative districts 2 cases of illegal trade had been revealed. Corresponding actions were taken to prevent their further activity.
According to the Mayor's instruction the area of Children's park was provided with 24-hour security cameras.
In the living quarter of Nor Kharberd the activities providing uninterrupted electricity, gas and water supply are still going on.
Concerning the construction of the new motorway connecting Isakov avenue with Leningradyan street it was reported that the work is going on in accordance with the determined schedule along the whole area of the road.
Regarding the process of improvement in North avenue Mayor Taron Margaryan noted:" The activities being carried out in the avenue are another example of effective cooperation between the Municipality and the private sector. These activities are going on within the frames of the investment project exceptionally at the costs of a private company".
On the event of the International Women's Day, March 8th the Mayor instructed to organize various festive actions in all the administrative districts.
It was instructed to arrange the action of free medical aid "For you, women" to be held from March 8 till April 7.
At the end of the working conference the annual reports on the work done in by the administrative subdivisions in 2013 were presented.
The Chief Advisor to the Mayor Vano Vardanyan presented the reports on the activities carried out in the spheres of foreign relations, particularly within the scope of cooperation with sister-cities and partner cities of Yerevan.
Then the head of the department of Development and Investment Programs Armen Harutyunyan introduced the activities carried out in the direction of investment environment expansion in 2013.
There were mainly presented the investment projects realized within the scope of cooperation both with the local investors and with the international organizations.