Speeches
Serzh Sargsyan's speech in the city of Ashtarak
14.02.2013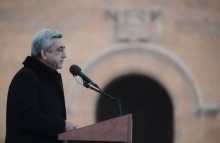 Dear residents of Ashtarak,
You are going to elect the president of the country. But these are not only presidential elections. Our nation is going to elect the image of the new citizen of the country, who will be active, powerful and wakeful. In three days we are going to elect the image of our future citizen. Whom and how you will elect depends on you. Nobody but you are to elect that citizen. Bad government cannot shape a good citizen, but it can be shaped by active, vigorous and self-confident, powerful and united society.
Although I am proud of our joint achievements, nevertheless, I regret for my own mistakes, which are not few and nobody knows my mistakes better than me. I have never forgotten the words of Emerson, "Our greatest glory isn't in never falling, but in rising every time we fall." Today I am standing in front of you, beside you, among you and I have never been more confident in the future of Armenia than at the moment.
I don't think that I have all answers and I don't underestimate our challenges, but you inspire hope in me.
A student of Yerevan State Linguistic University after Valeri Bryusov on behalf of her grandmother contributed 100 U.S. dollars to "Hayastan" All Armenian Fund in order to support any orphanage in Armenia. The grandmother and her granddaughter arouse hope in me.
The director of Zangezur Copper Molybdenum Combine was proud that during the most difficult days of the crisis, he didn't fire any of his 3200 employees. Moreover, he created approximately 200 new working places. An experienced person knows that one loses everything by losing people's trust. He arouses hope in me.
Dear compatriots, I have never promised that our path will be easy. Yes, I have chosen a hard path leading to better, more secure and juster Armenia. Yes it is longer, but we will walk down this path together with love and respect.
I am very grateful to you.
Forward, towards Secure Armenia!