Speeches
Serzh Sargsyan's speech in Gyumri city
09.02.2013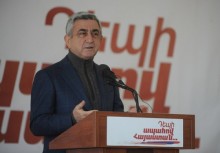 Good afternoon, dear residents of Gyumri,
I am grateful to you for coming to this meeting on this winter day. I hope you are here not only to listen to me, but also to support.
To tell the truth I don't remember how many times I have visited you. I have always taken from you more positiveness and, of course, new humor.
Every time I visit Gyumri I have different feelings. On the one hand I have a sense of responsibility towards Gyumri and its residents and on the other hand a feeling of inner peace, because we have continued our difficult mission of the restoration of Gyumri, sparing neither time nor efforts and attention.
I am definitely convinced that the expression "disaster area" is becoming less and less peculiar to Gymri. These steps will become priorities for capital, regional and local authorities:
- Creation of new production opportunities and working places
- Improvement of urban economy and formation of infrastructure proper to urban communities
- Improvement of a moral and psychological environment
- Improvement of residents' social conditions
- Promotion of community investments by means of a new tax policy.
We will take steps to ensure conformity between priorities of local authorities and financial recourses. At the same time we will continually increase services in our communities, raising their quality.
Dear residents of Gyumri,
It's impossible to be in Gyumri and not to speak about culture, not to remember the giants of our culture, who were born in Gymri. I believe in the new cultural golden age of Gymri. As you know Gymri has been declared CIS cultural capital 2013. It is both natural and binding.
I am sure that with the support of authorities Gymri will try to take advantage of this unique opportunity, creating specific cultural environment proper to this city.
In the near future Gyumri and Yerevan will be connected with a new modern highway within the framework of the North-South project. I assure you it will be Gyumri of a new quality.
I wish you every success, dear residents of Gyumri. Vote for "Towards Secure Armenia" program on February 18, it's a program of secure Gyumri. I am grateful to you for being here. I am sure that Gymri and the rest regions of our Republic will do its best to hold the best elections in our history. The development of Gymri depends on both quality and results of these elections.
Thank you.