Speeches
Serzh Sargsyan's speech in Vanadzor
30.01.2013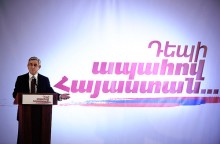 Dear Compatriots,
I am very grateful to you for coming here. You have come here to listen to me, I hope to support me.
Together we are paving the way to secure Armenia and we do that for ourselves, for our children and of course for our country, that is why I urge all of you to participate in the elections. Our victory must be convincing. This important political question and its solution are in our hands.
Dear Compatriots,
I promise that in case of re-election the state machine, each chain of the state machine would work more effectively and responsibly.
We will continue and will improve our reforms. Moreover, along with implementation of the reforms we are proofreading them taking into consideration changes of social life. No child willing to study will lose the opportunity to continue his education because of insolvency.
We have radically reconsidered the view as if market economy will automatically resolve issues existing in industrial and agricultural spheres.
Our foreign policy must keep the same spirit and logic. It isn't the sphere where we can make sudden changes. We must develop new issue solving mechanism, opportunities to defend Armenia's interests in deferent platforms and structures.
Only powerful Armenia can be secure next to our international colleagues, rivals and enemies. I am sure all of you know about the challenges facing our country. Hostile stance of Azerbaijan and Turkey, the closed borders, various pre-conditions of Turkey, aggressive, cynical and racist calls escalate the situation in the region day by day.
Turkey cannot avoid international recognition of the Armenian Genocide. No threat of force by Azerbaijan will ever suppress Armenia and the Republic of Nagorno Karabakh or restrict the countries' right to live in freedom and independence.
Even in this situation we will have secure Armenia. Our Army has always been the first and the most important guarantee to achieve this aim.
Dear compatriots, I want to express my gratitude to you one more time. You encourage me and my team with your presence. Enthusiasm is half of the success, and we will achieve the other half together. Forward, towards secure Armenia. I wish to hold the best elections on February 18. Today we an opportunity to hold the best elections, which will give a chance to the elected president to be strong both in international relations and implementing reforms in his country.