News
Serzh Sargsyan offers condolences on passing of Vilen Galstyan
05.06.2021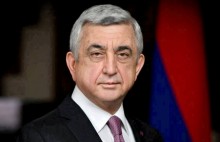 Third President of the Republic of Armenia Serzh Sargsyan sent a condolence cable on the demise of People's Artist of the Republic of Armenia Vilen Galstyan.
Serzh Sargsyan expressed his deep condolences and sympathy to the Galstyan family, Vilen Galstyan's relatives and friends, the numerous fans of his art, as well as to his colleagues from the National Academic Opera and Ballet Theater after A. Spendiaryan.
The President praised Vilen Galstyan's fruitful path in the development and dissemination of Armenian and world classical dance, which was marked by many achievements.