News
Third President of Armenia Serzh Sargsyan receives Ambassador Extraordinary and Plenipotentiary of the Kingdom of the Netherlands to the Republic of Armenia Nico Schermers
05.06.2021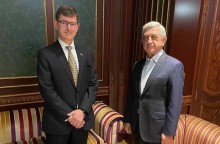 Today, the leader of the Republican Party, Third President of the Republic of Armenia Serzh Sargsyan hosted Ambassador Extraordinary and Plenipotentiary of the Kingdom of the Netherlands to the Republic of Armenia Nico Schermers at the RPA headquarters.
At the request of the Ambassador, Serzh Sargsyan presented the main directions of his Salute of Honor and Respect bloc's electoral platform.
The President referred to the situation in Armenia and the region, the challenges encountered in EU-Armenia relations, the international community's response to the 44-day Artsakh War, and the crisis fostered by Armenia's populist government.
Describing the reaction of international institutions to the 44-day war as "inert," the RPA leader underscored: "After all this, how can I explain to my people that the opinion of international organizations deserves respect?"
Weighing on the problems that the Armenian army has been facing since 2018, President Sargsyan noticed: "He (Nikol Pashinyan) was afraid of the army; that is why he did everything to dismantle our armed forces."