News
Republican Party of Armenia strictly condemns all cases of political persecutions through power structures in the country and calls on everyone to join today's rally
20.02.2021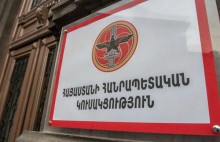 The Executive Body of the Republican Party of Armenia has issued the following statement:
"The capitulating government, which has led the two Armenian republics to a national disaster and is the only reason for the embarrassing defeat in the recent war in Artsakh, persistently continues its criminal policy of depriving the Armenian people of their homeland and state, but its efforts to deprive the Armenian people of their determination, hope and will to struggle for dignity and justice with phony criminal cases, false accusations and through the illegal use of the resource of power structures, are in vain.
It is in this context that we view the fact that yesterday the National Security Service instituted illegal and phony criminal cases against a number of public figures, representatives of the intelligentsia and circles of analysts and experts who are known for being oppositional and for their views in support of the nation.
All this is being done during martial law, which is still in effect for absurd reasons and which, according to evaluations from the international community, is aimed at repressing anti-government demonstrations and depriving members of the opposition of liberty.
These acts attest to a new wave of political persecutions through which the authorities, which are leading the nation to perdition, are trying to avoid the just wrath of the people and the justice that is imminently going to be served.
Taking into consideration the abovementioned, the Republican Part of Armenia:
1. Strictly condemns all cases of political persecution through power structures in the country.
2. Regrets that the National Security Service has deviated from its main mission and has become the pocketed stooge of the "nonsensical scribble".
3. Demands that martial law is immediately lifted and that all fundamental human rights and freedoms are ensured.
4. Reaffirms its commitment to a consistent political struggle.
5. Calls on everyone to join the struggle led by the Homeland Salvation Movement and show active participation in today's rally.
6. Declares that the incumbent anti-national and destructive government is the only one responsible for all the negative developments that are unfolding and will unfold in the future."