News
Serzh Sargsyan Visits Yerablur Pantheon
31.12.2020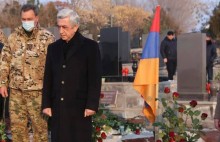 As at the end of each year, on New Year's Eve RA Third President Serzh Sargsyan visited Yerablur Military Pantheon to pay tribute to the memory of the heroic Armenians who sacrificed their lives for the sake of Homeland's independence and in defending the Armenian people.
Serzh Sargsyan laid a wreath at the Memorial to Fallen Freedom-Fighters and laid flowers at the graves of General Andranik Ozanyan and Commander Vazgen Sargsyan. The Third President next joined the bereaved parents and relatives of those brave Armenians who lost their lives in the latest Artsakh war to incense the memory of today's heroes.
President Sargsyan paid tribute to his comrades-in-arms who died in the Artsakh Liberation War and to the victims of the April Four-Day War. Serzh Sargsyan lit a candle in St. Vardanants Martyrs Church in Yerablur praying for the repose of the souls of all our martyrs who sacrificed their lives for their homeland. He prayed for peace in Armenia and Artsakh, and asked the Lord to strengthen the Armenian people's faith in the Motherland's future.