News
Many Shared our Pain and Sorrow. Statement of the RPA
07.12.2018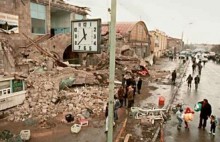 Dear Compatriots,
Today, the entire Armenian people and many others in the world remember and express their condolences in connection with the earthquake that struck Armenia 30 years ago.
The irreparable loss was our tens of thousands of compatriots who were victims of a natural disaster. The disaster was so great that the wound has not even spared today and reminds about itself in almost every Armenian family. We pay tribute to the memory of all victims of the devastating earthquake. We express our support to their relatives and express hope that children, who born in these following years, have been able somehow to reduce the pain of the past.
The material loss was indescribable too. Hundreds of thousands of compatriots lost everything in seconds. And this all was built with the help of several generations.
The Spitak Earthquake struck in a historic era, when the Armenian people were again united under the banner of national liberation struggle. And it seemed like this natural disaster was able to break our spirit. However, the time has shown that the pain of loss not only did not move us from our national desires, but also consolidated us all. It united us and gave an opportunity to overcome the deep sorrow.
We did not stay alone with our sorrow. Just in some hours, not only the republics of the USSR, but also the entire international community, were beside the Armenian people. Humanitarianism and charity in those days knocked on our door with their warmth and sincerity. This all also helped us to survive. And today is a chance once again to express our profound gratitude to all those individuals, organizations and states that were next to us during and after the tragedy.
Dear Compatriots,
Today, 30 years after the earthquake, it would be desirable to speak about the complete elimination of the consequences of the earthquake. And though much has been done, but for many objective and subjective reasons, we have failed to do all that. At the same time, however, we have managed to get the most important – to learn lessons.
And we can say for sure that, despite the difficulties, over the past three decades, we have managed to create prerequisites that will ensure that natural and social disasters can be overcome without irreversible loss.