News
Etchmiadzin Advertising Company Refuses to Provide RPA with Billboard
30.11.2018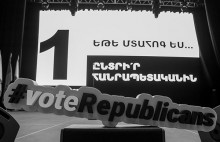 In each democratic country, parties participating in the elections are given the opportunity to exercise their pre-election campaign without any obstacle.
In cases where the resource is limited, such as broadcasting time or billboards, the Electoral Code contains specific regulations.
The Electoral Code of the Republic of Armenia has also followed that principle.
Particularly, it has envisaged special arrangements allowing those holding the advertising boards with a surface area exceeding five square meters, which are ready to provide them for propaganda. On the basis of those applications, the Central Electoral Commission, with the help of draw, distributes the billboards among the parties running in elections.
After the distribution, according to the Electoral Code, the organization is obliged to conclude a contract with a party, if that party has been allocated the respective billboard.
The refusal of the organization to provide with billboard is nothing but a hindrance to the implementation of the pre-election campaign, which is considered a criminal offense by the Criminal Code of the Republic of Armenia.
Such an incident happened with the Republican Party of Armenia. Particularly, the party has a right for one billboard in Etchmiadzin, and the company which owns it, has refused to allocate. In this regard, a statement was issued to the General Prosecutor's Office regarding the crime.
But it has been three days since, and no step has been taken in that direction.
In fact, the state body also demonstrates inactivity. And who needs the response of the state body after the end of the pre-election campaign?
We draw local and international observers' attention to such a discriminatory approach and a flagrant violation of the electoral legislation.