News
Statement of the RPA
20.11.2018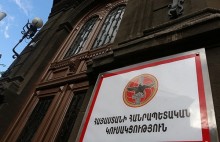 Yesterday, acting Prime Minister of Armenia Nikol Pashinyan was obviously engaged in pre-election campaign during his visit to Gegharkunik province in working hour, which is a gross manifestation of abuse of administrative resources by internationally accepted standards.
Thus, according to the Joint Communiqué on "Abuse of Administrative Resources during Election Campaigns" approved by the OSCE / ODIHR and the Venice Commission in 2016, "abuse of administrative resources" is the unwarranted advantage of certain parties or candidates using their official position regarding the impact on the election results."
The Report of Venice Commission of 2013 on the "Abuse of Administrative Resources during Election Campaigns", as well as the above-mentioned joint report, states that "a pre-election period must be understood as a wider period of time than the period of an election campaign established by national electoral legislation". It also includes registration of parties or candidates.
Examples of abuse of administrative resources in these documents are the use of official events for propaganda purposes or the use of institutional resources - staff, infrastructure. It is also mentioned that it is not prohibited to campaign outside the working hours.
Nikol Pashinyan conducted pre-election campaign at working hours in the framework of his official duties, using all institutional resources.
We urge the prime minister to strictly follow the rules set out by the international documents, to ensure equal opportunities for all parties, and not just in words but in deeds.