News
Political Leadership for Women. Members of the RPA Youth Organization Participated in one more Training
19.11.2018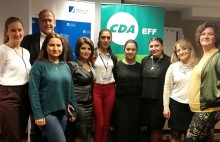 A three-day training for young female politicians entitled "Political Leadership for Women" was held in Yerevan on November 16-18.
The program, organized by joint efforts of Conrad Adenauer and Eduardo Fry foundations, was attended by the representatives of about ten parties from Yerevan and regions, including the members of the Youth Organization of the Republican Party of Armenia.
On the first day of the training, participants visited the National Assembly and met with the member of the RPA faction of the National Assembly, Chairman of the RPA Women's Council Karine Atshemyan and the head of the NA "Way Out" faction Lena Nazaryan. Experienced politicians presented their career through the question and answer, focused on frequent problems and obstacles women face in the political field.
Political priorities, election campaign, political PR, communication, women's influence within the party, etc. The speakers were the best professionals from Armenia, Ashkhen Beglaryan and Lilit Mkrtchyan, as well as Ester Keyser and Vim Euler from Holland.
The Conrad Adenauer Foundation and the RPA Youth Organization have been cooperating for many years, jointly implementing many programs both in Armenia and abroad.