News
Session of the RPA Board was Held
11.11.2018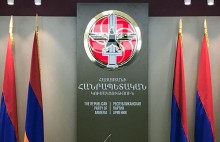 Today, Board of the Republican Party of Armenia discussed the draft of political statement (the text is available in Armenian).
The submitted document was generally approved during the session of the board.
It was decided to provide board members with one week for additional suggestions.
The submitted proposals will be discussed at the session of the Executive Body of the Party.
The RPA Executive Body will approve the final text of the statement on the basis of the proposals.