News
Batumi Hosted a Seminar entitled "Rule of Law"
01.10.2018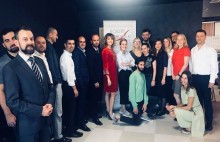 On September 28-30, Batumi hosted a seminar entitled "Rule of Law" for youth from EPP member parties of Eastern Partnership countries.
The seminar was organized by the Robert Schumann Institute, the Robert Schumann Foundation, and the EPP faction of the European Parliament. Narine Mehrabyan participated in the training from the Republican Party of Armenia.
International experts presented the importance of the rule of law in the democratization process, as well as the threats to it.
They performed practical work, discussed the fight against corruption by the example of specific countries. During the training, the issue of illegal financing of political struggle was also discussed.