News
Condolence Message of the RPA President Serzh Sargsyan on Charles Aznavour's Demise
01.10.2018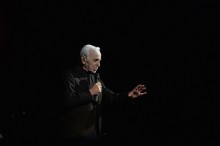 It is impossible to describe in words the great sorrow which I live in now. The demise of Charles is a great, irreversible loss and pain for all of us, especially for those who have personally known him.
Charles Aznavour, the Armenian national hero, the ambassador of the Armenian people to the world, the artist of the century, the father of the French song, so loved by all of us Charles Aznavour, with his incomparable, unique, bright talent, his honesty, optimism and kindness was a man worthy of admiration in the whole world. He embodied the destiny of the Armenian nation, its revival, unwavering will, diligence and invincibility.
Charles's life itself was a wonderful film, bright and full of humanism. This story, this miracle continues and will continue. Aznavour's bright star will always lighten us all from heaven.
Eternal Glory to You, Dear Master, Dear Charles, Great Armenian.