News
The Meeting of the Editorial Office of BullsEye Magazine of the EDS was Held in Brussels
13.09.2018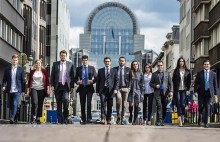 Meeting of the editorial office of the BullsEye Magazine of the European Democrat Students organization took place in Brussels.
Anna Mkrtchyan, a member of the Youth Branch of the Republican Party of Armenia (RPA), was elected as the editor of Bullseye at the previous meeting.
During the Brussels meeting, the content of the magazine, the structure, directions, and the scope of correspondents' interests were discussed.
Representatives of the editorial office also met with the EDS presidium to discuss the upcoming work of the organization. The discussions took place at the headquarters of the European People's Party.
Anna Mkrtchyan's article about populism will be published in the coming issue of the magazine.