News
"Women and Political Influence": From Idea to Clear Result
11.09.2018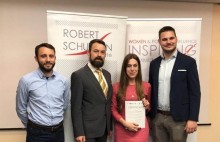 The training "Women and Political Influence: From Idea to Clear Result" was organized by Robert Shuman Institute in Kyiv on September 7-9.
Representatives of different political parties from Armenia, Belarus, Moldova, Georgia, Ukraine, as well as Lebanon participated in the program.
Anna Hakobyan, member of the Youth Branch of the Republican Party of Armenia (RPA), participated in the program from Armenia. Within the framework of the three-day program, the importance of public policy, analysis, its relevant tools, as well as stakeholders were discussed.
Discussions have been completed with practical exercises, including problem identification, data collection, development and analysis, assessment of alternatives, history presentation.
The project participants also discussed women's role and how the society percepts her as a leader.
Lectures on successful experience of inter-party cooperation were also delivered in the framework of the training.
In the end of the program participants received certificates.