News
RPA will support the candidate nominated by the 1/3 of the total MPs
02.05.2018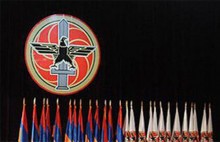 The sitting of the Republican Party of Armenia (RPA) parliamentary faction took place today in the Parliament. After the session the faction issued a statement on the internal political situation in the country and how to get out of the situation. Please, see below the full text of the statement.
"We give positive assessment to the fact that almost all the existing concerns were voiced by four parliamentary factions at the National Assembly. Part of the concerns voiced by the Republican Party during the question-and-answer session with the PM candidate was dissipated, but the most important remain unanswered. Those questions are not only the cornerstone for the Republican Party but also for the future of our country.
The RPA has silently accepted the accusations which had little to do with it in reality.
Now, taking into account the fact that the country should return to the stability, On May 1, taking into consideration the voiced positions and results of the voting on May 1, I declare on behalf of the RPA faction:
Armenia will have an elected Prime Minister based on the results of May 8
The ruling Republican Party (RPA) announced that they will not nominate a candidate for PM.
The RPA will support the candidate nominated by the 1/3 of the total MPs.
We call for the immediate stabilization of the situation, to open the streets and highways of the capital and the republic, to immediately stop the next blockade of the airport, stop the propaganda of intolerance and to solve everything in the frames of the constitution.''