News
All issues should be resolved in accordance with the democracy standards
19.04.2018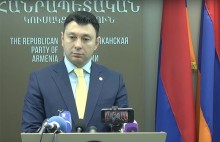 RPA spokesman Eduard Sharmazanov presented the collective opinion of the members of the Executive Body on the country's internal political situation and ongoing protests after the session of the Executive Body of the party. Sharmazanov noted that in the current situation the government should show tolerance: "We respect our citizens' right to rallies and demonstrations. This is a constitutional norm, and no one has the right to limit the legal process of the rallies set by law," - said Sharmazanov.
The RA NA Vice President added that at the same time they are of the opinion that the organizers of the protests should pay greater attention to the fact that none of the demonstrators would carry out illegal actions: "Unfortunately, there have also been cases of the violations of law, and the law enforcement bodies have made clear statements," - said Sharmazanov.
Touching upon the actions of police, he underlined that the government assesses the behavior of the police as positive and professional: "Yesterday I mentioned that the only way is the political dialogue. Political processes should be pursued exclusively through political dialogue, political solidarity and political debate. There is no other way. We believe that all the issues should be solved in accordance with the democratic standards, based on the rule of law and the Constitution," - the RPA spokesman stressed.
Eduard Sharmazanov also touched upon the case of journalist Tirayr Muradyan, stressing that he strongly condemns any case of hindrance to journalists' professional activities and violence against them.
"We do not have opponents and enemies in our country; everyone is our citizens, our brothers and sisters. Even the participant of the demonstration is a brother, friend, partner, regardless of whether he treats us as a partner, brother or an opponent."
Summing up the topic, Sharmazanov noted that it is necessary for all parties to maintain the rule of law, legitimacy, demonstrate tolerance in this process.
Referring to the RA Prime Minister's election, Eduard Sharmazanov said the election of the country's prime minister was a purely protocol procedure which recorded the ratio of forces formed in 2017, based on the results of the elections on April 2. Eduard Sharmazanov noted this in a conversation with journalists after the RPA Executive Body's session. He added that the prime minister's election in parliament was legal: the political majority has a high sense of responsibility and will continue the implementation of the reforms.
"I do not want to say that our counterpart's agenda is false, not political one. His colleagues from the "Way Out" faction remained in the parliament, which is the right place for the dialogue. However,
as long as every incorrect statement can lead to misinterpretation, I will not make any comment that can give my opponent the opportunity to comment on those words differently," - said Sharmazanov.