News
Republican Party Candidate Armen Sargsyan was elected the 4th President of the Republic of Armenia
02.03.2018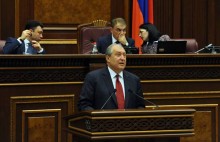 Head of the election commission Gagik Melikyan reported Sargsyan was elected 90 votes for and ten votes against as a result of secret ballot. So, Mr. Sargsyan was elected the President of the RA.
Armen Sargsyan will take over the office after the powers of the incumbent president expire on April 9.
In the evening, the President of the Republic of Armenia Serzh Sargsyan received elected President of the republic Armen Sargsyan, who will assume office according to the Constitution on the day of the termination of the term of the previous President.
Serzh Sargsyan congratulated Armen Sargsyan on his election as President of the Republic, wished him success and expressed confidence that the coming years will be the years of achievements for Armenia.
----------
Armen Sargsyan was born on 23 June 1953 in Yerevan, Armenia. He is married, with two sons and three grandchildren. He graduated from the Theoretical Physics and Mathematics Faculty, Yerevan State University (YSU). In 1976-1984, he worked as Professor of Physics at YSU and founded the Department of Computer Modeling of Complex Systems. In the Soviet times (1984-1985, 1989-1991), he was visiting research fellow and later worked as Professor at the University of Cambridge, Institute of Mathematics of London University. Between 1992 and 1995, Sargsyan served as Ambassador of Armenia to the UK. Simultaneously, he was "Senior Ambassador" to Europe, Ambassador to the European Union, Belgium, the Netherlands, Luxembourg, and the Vatican (until 1999). In 1995-1996, he worked as Head of Mission of the Republic of Armenia to the EU. On 1 November 1996, Armen Sargsyan became the fifth Prime Minister of Armenia. He served only four months of the term and left the office on 28 February 1997. Until this day, some people believe that a dispute with Defense Minister Vazgen Sargsyan was the reason of Sargsyan's resignation. However, that opinion has yet to find factual proof. The official explanation, which we have no reason to consider implausible, states that Armen Sargsyan resigned due to the need to get treatment for a serious illness.
In 1998, he was reappointed Ambassador to UK and served until 2000. Armen Sargsyan is the Founding President of the Eurasia House International (since 2000). In different periods he provided consulting to British Petroleum, Alcatel, Telefonica, and other companies.
Armen Sargsyan was appointed Armenian Ambassador to UK for the third time in September 2013.