News
Representatives of the Youth Organization of the Republican Party of Armenia participated in the EDS Winter University
28.02.2018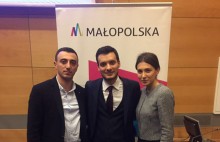 Recently, the EDS Winter University of the EDC Student Organization in the Polish city of Krakow was held. The Republican Party of Armenia (RPA) was represented by Anna Mkrtchyan and Gevorg Harutyunyan. The conference was entitled "Europe and Young Leaders of Local Communities", where thematic discussions were held.

The Cypriot delegation proposed an urgent resolution on the use of economic encroachments and restrictions on neighborhood territories by Turkey, which was unanimously adopted. The resolution states that such behavior is harmful not only to the Republic of Cyprus but also to the entire region.



Anna Mkrtchyan, member of the Republican Party of Armenia (RPA), made a speech on the final stage of constitutional amendments, the presidential election and the appointment of the prime minister and presented the current situation.