News
A Discussion Dedicated to the 30th Anniversary of Artsakh Movement
23.02.2018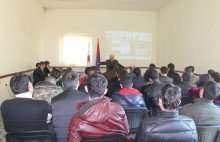 At the initiative of the Youth Organization of Gegharkunik Province of the Republican Party of Armenia (RPA), a report-discussion dedicated to the 30th anniversary of Artsakh Movement was organized. About 50 young people from Gavar regional organization participated in it. The event was attended by the participant of the ArtsakhLiberation War, lieutenant-general MurazSargsyan at the invitation of RPA Gegharkunik Youth Council Chairman Karen Hakobyan.
After welcoming remarks, the participants listened to the report on "Historical and Political Foundations of the Artsakh Movement". It was presented by GayaneKhanamiryan, a history teacher at Gavar N3 basic school. Later, the participant of ArtsakhWar, lieutenant-general MurazSargsyan made an encouraging speech. He presented episodes from his participation in the liberation war.
At the end of the event, MurazSargsyan handed over the party membership cards to 15 young people who had joined the ranks of the RPA, wishing them patriotic activities and national consciousness.
Karen Hakobyan and GarikBadalyan, Chairman of Gegharkunik Regional Organization Board of Directors, highlighted the participation of youth in such events and welcomed their interest in the topic.