News
Book Donation Day in Vanadzor
19.02.2018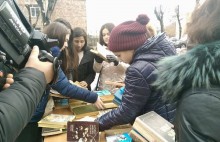 On February 19, on the birthday of Hovhannes Tumanyan, for several years in a row, Armenia has been celebrating the Book Donation Day. It is of particular importance in the Lori region. The members of the RPA Youth Organization of Lori marz organized a campaign to donate and exchange books in "Artsakh" park in Vanadzor. Visitors were getting their preferred books as a gift, which were available in the stock.
A large number of young people took part in this event, getting literature based on their literary preferences and interests.
The event was also attended by adult bibliographers who, thanks to their experience, directed young people to read what books they needed to read for self-development and for the correct orientation in the different genres of literature.