News
Students support soldiers: the initiative of the RPA Youth organization and ASUE students
07.02.2018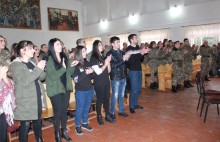 Within the framework of the events dedicated to the 26th anniversary of the formation of the Armenian Armed Forces, Student Council of the Armenian State University of Economics and the Youth Organization of the Republican Party of Armenia organized a visit to the military unit in the border village of Koghb.
Up to fifty students of the Armenian State University of Economics visited the northeastern border of Armenia in order to congratulate Motherland Defenders within the framework of the program "Students Support Soldiers". Students, accompanied by officers, first toured the military unit, were introduced to the structure of the unit and available military equipment, as well as learnt about the daily life of the servicemen.
Hovhannes Harutyunyan, Chairman of the Student Council, noted that such events are important for the Student Council's activities in terms of strengthening the HEI-army ties: "Owing to the visits of students soldiers are briefly cut off from their usual daily routine and communicate with their peers, feeling that students are the soldiers of their homeland in civilian lives, ready to take up arms at any moment and be next to the soldier who protects our border," - Hovhannes Harutyunyan said in his speech.
After lunch with soldiers, students organized a concert. They performed national-patriotic songs. Soldiers also joined the program prepared by the students. One of the servicemen said: "It is not easy to leave home and family, to leave civilian life, and to live a military life for two years, but when you know that your peers always remember and support you when you need it, our service becomes much easier and pleasant. Any visit of our students is always awaited and very encouraging."
Like during all previous visits to different military units in Armenia and Artsakh, representatives of the ASUE Student Council and the Youth Organization of the Republican Party of Armenia (RPA) had prepared gift-packages for soldiers and the entire military unit.