News
START OF THE NEW PROJECT OF RPA YOUTH ORGANIZATION
29.01.2018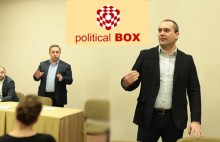 The guests of the first event of the Political BOX were the Chairman of the Youth Organization of the Republican Party of Armenia, MP Karen Avagyan and specialist in Arabic Studies Armen Petrosyan.
Karen Avagyan noted in his welcoming speech that this program provides young people with an opportunity to call to life their knowledge and ideas and to become participants in all the processes that are taking place in our country.
"The Political Box is the program where all the problems, suggestions that worry us all, will be discussed, and we will try to figure out the forms of solution, express our opinions, and what knowledge and skills are required we haven't yet applied," - Karen Avagyan said. According to him, the Republican Party of Armenia (RPA) always needs new ideas, new programs and new actors. According to him the creators of this new are our young ones. Mr. Avagyan also answered different questions asked by the participants.
The next speaker was Armen Petrosyan, specialist in Arabic Studies, who mentioned that participating in the project was a great honor for him. Through the "case" prepared by the expert, the participants had the opportunity to try their best to participate in an international political discussion-competition titled "Turkey's Invasion of Syria."
It should be noted that the results will be summed up later, and the winner team and the best participant of the day will receive prizes.