News
POLITICAL BOX KICKS OFF
26.01.2018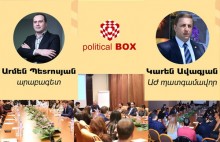 Please be informed that the Political BOX program initiated by the RPA Youth Organization will be held in Urartu Hall of Erebuni Plaza on January 27 at 16:00.
The Political BOX is a program that organizes informational competitions on major domestic and international events.
Through the Political BOX, young people can participate in thematic events, hear expert speeches and exchange opinions with officials.
During the first event, the young people will meet with the Chairman of the Youth Organization of the Republican Party of Armenia, MP Karen Avagyan and specialist in Arabic Studies Armen Petrosyan.
Karen Avagyan will share his opinion on the importance of similar youth programs, answer questions asked by the participants of the event.
Groups, composed of the participants, who had applied for the participation in the program in advance, will compete using the expert questionnaire, made by Armen Petrosyan.
During the event, which will take place on January 27, a relevant contemporary topic in the field of international politics will be discussed.
The winning team and the best participant of the day will receive prizes.
We warmly invite you to cover the event.