News
Team of RPA Erebuni territorial organization is the winner in the shooting competition
16.09.2017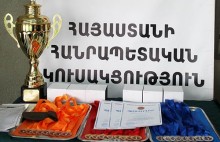 The Republican Party of Armenia has organized competitions in traditional sport games for 15 years. This year the program included shooting competition as well. Approximately 80 participants were trying to get into the target from TOZ 8 at 50 m. Both men and women were excited with the competition.
The arbiter was pleased with the results of the competition, in particular, he said that in spite of the fact that this is a man's sport, but women weren't inferior to men at all.
"It would be better if each territorial organization had a TOZ 8 rifle which is considered to be better from the point of view of aiming" said the arbiter and noted that it will serve the purpose in wartime.
The first place was taken by RPA Erebuni territorial organization, 2nd place – by RPA Shengavit territorial organization and the 3rd place – by RPA Armavir territorial organization. In the individual competition among men Norayr Arakelyan from Shengavit territorial organization team took the first place and Svetlana Tigranyan from Erebuni territorial organization's team took the first place among women.