News
Ara Babloyan Has Bilateral Meetings in Seoul
28.06.2017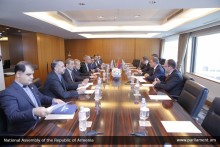 During his visit to Seoul within the framework of the Second Meeting of Speakers of Eurasian Countries' Parliaments the RA NA Speaker Ara Babloyan had bilateral meetings with the Speaker of Majlis of the Islamic Republic of Iran Ali Ardeshir Larijani, the Speaker of the Chamber of Deputies Jan Hamáček, the Speaker of the National Council of the Republic of Slovakia Andrej Danko and the Chairman of the National Development and Reform Committee of the National People's Congress of the People's Republic of China (PRC) Zhang Ping.
During the meetings Ara Babloyan discussed the current level of cooperation with Armenia and those countries, the perspectives of development and expansion of cooperation. Highlighting the role of the parliamentary diplomacy in the development and deepening of bilateral relations, Ara Babloyan underlined the necessity of the activation of the contacts of the parliamentary Friendship Groups and the exchange of experience, which will give an opportunity of searching other formats of cooperation, strengthening the current relations.
The RA NA Speaker also touched upon the necessity and importance of supporting mutual positions in different international structures, underscoring that the civilized countries of the world should unite their efforts for the establishment and preservation of peace, protection of human rights and development of democracy in different corners of the globe.
In the course of the meetings the RA NA Speaker invited his colleagues to Armenia and received invitations of visiting their countries.