News
PRESIDENT HOLDS CONSULTATION ON PUBLIC SERVICE SYSTEM REFORM
21.06.2017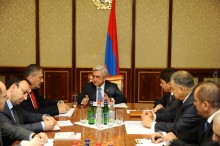 President Serzh Sargsyan held today a consultation to discuss progress and interim results of the activities carried out by the Public Service Reform Implementation Task Force as established under the President's executive order of December 20, 2016. Reference was made to the drafting of civil service-related bills.
Task Force Supervisor, Deputy Prime Minister, Minister of International Economic Integration and Reforms Vache Gabrielyan introduced the key innovations featuring in the bills, including the status of the Civil Service Authority, its formation and the terms of reference.
The President of the Republic underscored the importance of reforming the public service system and increasing its effectiveness in tune with the constitutional amendments. As a result, the Working Group Supervisor was given a number of instructions based on the approaches and recommendations voiced during the consultation.