News
Ara Babloyan Receives Ambassador of Kazakhstan to Armenia
05.06.2017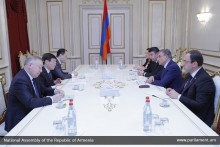 On June 5, the RA NA President Ara Babloyan received the Ambassador Extraordinary and Plenipotentiary of the Republic of Kazakhstan to Armenia Timur Urazayev.
Welcoming the Ambassador in the parliament, the RA NA President expressed hope that Mr Urazayev will continue his activities directed to the development and deepening of the relations between the two countries. He has highly assessed the Armenian-Kazakh relations, and the friendship laid on its basis.
The RA NA President touched upon the works of the formation of Armenia-Kazakhstan Parliamentary Friendship Group in the parliament of the sixth convocation and expressed confidence that the Friendship Group will have significant role in the strengthening of the Armenian-Kazakh parliamentary cooperation.
During the talk, Ara Babloyan highlighted the role of the parliamentary diplomacy on the international platforms and assessed the work with the Kazakh colleagues in different structures in the IPA CIS, in the CSTO PA, underlining that the potential in that sphere is big and we may closer cooperate over the issues of bilateral interest.
Ara Babloyan underlined the role of the EEU in the cooperation and development of the economic relations between the two countries and the implementation of the joint programmes.
The Ambassador of Kazakhstan to Armenia Timur Urazayev congratulated Ara Babloyan on being elected the RA NA President and noted that Kazakhstan intends to develop the relations with Armenia in all spheres.
Timur Urazayev also touched upon the parliamentary elections held in Armenia in April and stated that the observers highly assessed the organizational level of the elections.
Ambassador Urazayev thanked the members of Armenia-Kazakhstan Friendship Group that functioned in the parliament of the previous convocation and expressed readiness to work with the members of the newly forming group to discuss issues of bilateral interest and elaborate new ways of cooperation advancement.