News
PRESIDENT RECEIVED THE MINISTER OF FOREIGN AFFAIRS OF GEORGIA
11.04.2017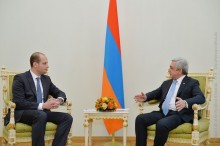 President Serzh Sargsyan received today the Minister of Foreign Affairs of Georgia Mikheil Janelidze.
Welcoming the guest, the President of Armenia expressed hope that Minister Janelidze's official visit to Armenia will be productive and will become a new impetus for the strengthening of the interstate relations. The President of Armenia and Minister of Foreign Affairs of Georgia noted with satisfaction that the Armenian-Georgian relations are developing dynamically: there exists a vibrant political dialogue, economic ties are expanding and cooperation in the humanitarian area is deepening.
Serzh Sargsyan underscored that for Armenia the relations with the friendly Georgia are precious, and our country is interested in further deepening and strengthening these relations.
The interlocutors recalled warmly their meeting which took place almost a year ago in Yerevan and efficient discussions. Minister Janelidze highly praised the works carried out in the last twenty-five years since the establishment of diplomatic relations and aimed at the strengthening of the interstate relations. He noted that particularly in recent years these relations at all levels and contacts in different areas have become more active. He noted especially interaction in the energy sector and stressed that it is necessary to do everything possible to fully utilize the huge potential existing in that area.
The parties spoke also about the opportunities of developing cooperation in the multilateral format, dialogue with the EU and programs of cooperation, regional problems and challenges, as well as the NK peace process. The President of Armenia and Minister of Foreign Affairs of Georgia underscored the necessity of stability and peace from the viewpoint of regional development.
Minister Janelidze congratulated President Sargsyan on the conduct of the parliamentary elections in line with international standards and on the victory of the Republican Party of Armenia.