News
PRESIDENT HANDED HIGH STATE AWARDS TO THE SERVICES WHO EXCELLED IN THE COURSE OF COMBAT DUTY
25.03.2017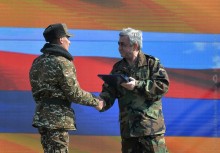 President of Armenia, Commander-in-Chief Serzh Sargsyan, who is in the Republic of Artsakh on a working visit, today in the framework of the cooperation program of the two Armenian states, accompanied by the President of Artsakh Bako Sahakian, Ministers of Defense of Armenia and Artsakh and high ranking military officials visited one of the military regiments of the Army of Defense, familiarized with the combat readiness of the troops and attended the concert organized for the servicemen at the drill ground of the regiment.
At the conclusion of the concert, President Sargsyan handed a high state award – Combat Service Medal to a group of servicemen for their valor and courage in defending the borders of Fatherland, handed presents to them and parents of those soldiers whose families sent two or more soldiers to the Armenian Army and who carried out their duty with dedication.
The President of Armenia expressed gratitude to the defenders of the Homeland and wished them safe term of duty.
***
Remarks of President Serzh Sargsyan before the troops and their families
Officers and Soldiers,
Dear Parents,
Distinguished Compatriots,
Here, on the land of Artsakh, the perception of the reality, in my opinion, is much more real. I am sure you all feel it. In Yerevan and other cities of Armenia, thanks God, we have long ago overcome the stage when danger was in the air at any moment. And it is good, it's a very important factor for moving forward. But here the feeling is different, it is definitely much more real. The people of Artsakh wake up every day and live their daily life with the clear understanding that at any moment anything can come up from the eastern direction. The people of Artsakh make one army: here everyone is a soldier who is defending for months and years the south-eastern border of a great realm of those for whom peace is the greatest value, democracy is a life style, who uphold freedom of speech, human rights, Christianity and tolerance. Artsakh itself is the hero of our days.
Dear Parents,
You have spent this day with your soldier children. I bow to you for raising such sons.
Every day, every moment they are guarding the security of our people, uphold our existence. Tomorrow they will be back to your hearths as true men – mature, insightful and will live with the conviction that development is possible only for those who are protected. Today they realize it better than anyone else. Yes, development is possible only for those who are protected. It means that these days when debates are underway who can be entrusted with Armenia's development for the next five years, everyone must ask himself or herself the same question – who is able to organize our defense which will allow us to develop?
April before last, we canonized 1.5 million of our martyrs. Last April, we became a fist and thwarted the large-scale attack of the neighbor who lost the sense of reality: we averted the prospect of canonizing the martyrs in the future. Those, who don't realize that here, on this border we are foiling genocide, don't understand where they live. Those, who don't understand the danger of the rhetoric of eliminating our people living on their own land, may boast of raising pensions and wages with no existent money or providing the people with almost free gas and electrical power – the danger will not become less real.
Last April, we threw back the adversary, which violated international agreements, on all directions; we ruined their plans, we smashed them altogether in the information war of those days. In one year, we fortified our border and armed our troops to the extent that today our frontline is simply unrecognizable. Today, our guys are following the movements of the enemy in the depth of its own territory. Today, super modern, devastating striking power aims at the entire territory of our belligerent neighbor, including its vital infrastructure. And today, the Commander-in-Chief of the Armenia without batting an eyelid will give if needed the order to strike with the Iskander. In the neighboring country they know it all too well.
We will never canonize millions of martyrs again, never.
Last April, we lost hero boys. Nobody knows how I went through each of their deaths. I, the Commander-in-Chief, who simply has no right to be weak. I relived the life of each hero, and next morning with a cold stare I gave a new order to strike back.
We must hold our security in strong hands. Populism or weakness at the top of our security pyramid will be devastating for our entire nation. When we agree to end the four-day war, we certainly knew that a height or two had not been taken back yet. A person, fearful of our internal political realm or a populist, would give another 100 lives to bring back that piece of land to play a hero later, at the podium. Only a strong one could give the order to stop, to spare those lives and to take upon himself the future hollow blows of populism, realizing all too well how much territory had been gained before that silently and how much would be taken next time. Only strong people can understand the value of a human life. Our security needs a strong leader.
I am constantly asked what I am going to do after 2018. Throughout my life I never planned where my next stop would be. I always was in the places where I was most useful for our security. I don't know what the political structure will be in 2018 but if the political force headed by me wins in the coming elections, based on the configuration of that moment, I will have my role in some capacity in the upholding the security of our people. I don't know what that capacity will be but I will undoubtedly be instrumental in some format.
Today we have more pressing issues. We must understand that April 2 in no joke; it's not a competition for phony patters; we must understand that on April 2 we are not electing those who can jump over the roofs – we elect those who protect the right of our people to exist, we elect those who can give orders to strike, to attack and in case of need to retreat, we elect those who possess stamina strong enough to do it. We elect those under whose command these boys will finish their service, and next will come to serve, who will defend the right of our children to study carefree and the sunset of our elderly. Do we understand it now or not but when approaching the ballot-box simply have to.
Compatriots,
Security of Armenia and Artsakh is our number one task, number one problem.
Each one in our society must be sure: we have not and will not spare effort, means and opportunity to fortify our security even further, to augment it with new elements.
Along with the efforts aimed at the ensuring favorable external conditions for the development of our country, we will continue to modernize our Armed Forces, enhance its combat readiness, supplement it with modern and adequate weaponry our policy which actually has no alternative.
Yes, together with international mediators, we will continue our efforts to reach a peaceful and dignified settlement of the Artsakh conflict, a settlement which will secure the indivisible and uncontested right of the people of Artsakh to live and work free on their historical land and well ensure a lasting and stable peace. However, from the recent past, from the April War we learned what kind of mood is reigning on the other side of the border, what values are being preached, what distorted and implausible perceptions with regard to the reality and prospect exist there. I state it simple and clear: our Armed Forces, our collective honor and dignity will continue through their combat readiness, weaponry and superb combat spirit to coerce the adversary to uphold peace and if, God forbid, it becomes necessary again.
Have no doubt – there are only few nations in the world that know the worth of peace as we do. But again, let no one have a doubt that we are a nation whose dignity is not for sale, whom will be impossible to compel to take steps which are contrary to our dignity and the sense of fairness, as well as to the international norms.
Thank you, dear parents, for raising these hero sons. Thank you, dear soldiers for fulfilling your patriotic duty with such diligence. Thank you, officers, for your keen and professional leadership. Thank you, dear brothers in arms, for your boundless dedication.
Thank you.