News
PRESIDENT RECEIVED DIRECTOR GENERAL OF THE RF AGENCY FOR STRATEGIC INITIATIVES AND PRESIDENT OF LEADERS' CLUB
23.03.2017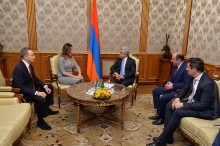 President Serzh Sargsyan received today the Director General of the Agency for Strategic Initiatives created by the government of the Russian Federation Svetlana Chupshaeva and President of the Leaders' Club Artyom Avetissian. Together with their delegations, they have arrived to Armenia by the invitation of the Center for Strategic Initiatives of the RA government.
The President welcomed the guests and noted with satisfaction that the Armenian-Russian relations and cooperation agenda are constantly expanding and become richer, encompassing new areas: along with the active cooperation in the interstate, interparliamentary formats, the ties between the academic and social groups also expand.
President Sargsyan expressed hope that cooperation and experience exchange between the Agency for Strategic Initiatives, which is actively engaged in the development and strengthening of the business environment in Russia and program design, the Leaders' Club and the Center for Strategic Initiatives created recently by the government of Armenia will be mutually useful and efficient.
Svetlana Chupshaeva and Artyom Avetissian presented to Serzh Sargsyan activities of the organizations headed by them, recent interesting initiatives and expressed readiness to establish closer relations with the Armenian counterparts and receive them reciprocally in Russia.
The guests spoke with the President about their impressions of the visits and meetings held in Yerevan. They said that were impressed with the Tumo Center, activities of the Armenia Development Initiatives benevolent fund and believed that in choosing strategic centers for the development of their economies, Armenia and Russia have certain similarities such as cadre training, encouragement of education for young people, development, engaging children in the scientific and technical activities with some kind of interesting programs to make them professional of the area in the future, etc.
All this, in their opinion, makes cooperation with Armenia more attractive and prospective.