News
PRESIDENT MET WITH THE PARTICIPANTS OF THE YOUTH GATHERING OF THE RPA 16TH CONVENTION
21.01.2017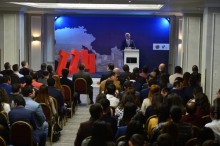 Today, at the Tigran the Great Hall of Armenia Marriotte Hotel President Serzh Sargsyan met with the participants of the RPA 16th Convention youth gathering – nearly 300 members of the Party's youth organization. The main goal of the gathering was to represent to the young people the key messages which were voiced at the 16th Convention and to dicuss them with the representatives of the young and elder generations of the Party.
The gathering was conducted in several stages. At the first stage, young people, who reached prominence in their own areas, presented their experience, the personal story of success, as well as their message to the young people.
At the second stage, there took place the area by area round table discussions with senior officials – Head of Presidential Administration Armen Gevorkian, Vice Prime Minister, Minister of Economic Integration and Reforms Vache Gabrielian, Head of the Government Staff-Minister David Harutyuniain, Minister of Defense Vigen Sarkissian, Head of the National Assembly Staff-Secretary General Hrair Tovmassian, Deputy Chairman of the RPA Armen Ashotian, Deputy Chairman of the RPA, Head of the RPA Ideology Commission Mushegh Lalayan.
The young Republicans discussed with their senior colleagues issues related to the economy, justice, security, finances, the internal situation and international agenda and the avenues to solve them. Highlighted were the seven messages addressed by the President of the Armenia to the young politicians at the 16th Convention.
At the final stage, the participants met with President Serzh Sargsyan. Briefly were presented the works conducted by the groups, results of the discussions on which the President asked the participants pertinent questions and responded to the inquiries made by the participants.
The President saluted the participants of the meeting and in his remarks thanked the organizers of the event for the interesting discussions. He stressed the importance of such gatherings and discussions on different issues, which, according to the President, is one of the best ways to always feel the pulse of the society.
"I believe you're aware that I constantly meet with pleasure with young people. Every year, there are at least five or six meetings with different groups: I meet with the young people who excell in the area of information technologies, Luys Foundation schoolarship holders, drafted servicemen, high school gold medal graduates, young scholars, athlets, during my visits to the higher education establishments I meet with the faculty and students, and certainly I meet with my Party young fellow members.
I think this is a very proper approach, and one of the best ways to feel the pulse of the society because the youngsters have a sharp eye, they are emotional, spontaneous, questions they raise are probably not very pleasant for some or are considered unimportant by some people but I am confident these questions are at least are questions of future agendas.
Thanks God, during these meetings I have seen many bright and brilliant individuals. I see that young people are able to unite more easily, to find common interests and try to solve the problems. This is very important.
Individual game has always been one of the strongest attributes of our people, our nation. In team games, we have been unsuccessful on many occasions even though we have multiple examples to prove otherwise - Ararat-73, fight on different battle fields, our national chess team; nevertheless in team games we really fall behind. However it is very important, and I see changes in this mentality, and you should be the avantguard – we must to be able to come up as a united force.
Literally yesterday in Dilijan I met with the soldiers decommissioned in 2016. I say soldiers because they don't think that they served their duty and that's it. They believe that their friends are stil there, they believe our security, our national issues have not be solved yet and they are ready to join their friends at any moment. In their eyes I saw spirit, they possess vigor, they are courageous and resolute. There is no doubt that we can with clear conscience entrust our future to them. These are brilliant guys, and what's very important they are ready with the same vigor to engage into the resolution of the problems in the country's civil life too.
I am confident that all those present have the same vigor because the brief summaries that were made have really inspired me. I see seriousness, I see that this gathering is not a formal one, it's not a gathering to show anyone anything. This is a gathering to find a common idea, a gathering to find solutions for the problems, which certainly inspires me. I would like to repeat once again that young people have a very serious mission – to bring this approach, this understanding to everyone. Young people have a keen eye, bright mind, whatever they do, they do it first of all for themselves because the future belongs to them. And with this regard the more efficient your work is, the better for you.
Young people are very vocal in our society. They are entrusted with many responsible jobs and duties. Among them the Head of the Presidential Staff Armen Gevorkian, Minister of Defense Vigen Sarkissian, we have a young Mayor – Taron Margarian, a young Head of the Natonal Security Service Georgi Kutoyan, a young Minister of Justice Arpine Hovhannissian. These are areas which are critical for our state and our people. We need to support them all, we need to support each other because their success, also the success of others, is our commone achievement, our people's success. These examples will multiply in the future.
This year, we have entered the second 25-year period of our statehood, our Republic. It must be multiple times more efficient than the first twenty-five years were because there is every prerequisite in place to do that. And with this regard, initiating constitutional changes, we are aiming at raising the level of efficient administration in our country. First two or three years will be very important, will be vital.
I am glad that the RA Government headed by the prime minister has undertaken structural reforms. Without serious reformation, we will not be able to create the environment which is required by our people, which require we all and for which we are ready to do a lot. Let us break down that "a lot" and see that without the active participation of the young people, without their vigor, without their courage, without knowledgable young people and honest people we will not be able to achieve serious results. Thus, we have to work on these directions, work hard, toil, and succeed.
We are small in numbers and need to be extremely attentive towards each other, need to be respectful, tolerant. Our people will not be harassed and will not be taken against each other. We need to be united by a common idea rather than some personal interests or political ambitions.
It is obvious that we all have personal lives; we all have friends, parents, children… It is quite understandable, and I believe no person is complete without a friend. But to make the life in your milieu better, everyone's life should become better. We all have to be interested in general prosperity.
I would like to conclude with the following wish: I want to once again encourage you and express gratitude for your positon. You see, the most important thing for the young person is to be vigorous and to have a position. To live in a prosperous society, one needs to have a political position," said President Serzh Sargsyan.