News
Audit of reports on Yerevan budget of 2016 implementation will be performed
29.11.2016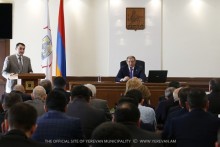 At the regular meeting of the Council of Elders of Yerevan which was chaired by Yerevan Mayor Taron Margaryan, the members of the council approved of the draft decision on involvement of audit service with the aim of carrying out an independent audit of the annual reports on Yerevan budget of 2016 implementation. According to the decision, the deadline for finishing audit services has been scheduled for February 23,2017.
The rest issues on the agenda were also approved by the Council.
The next meeting of the Council of Elders is scheduled for December 21.