News
PM: Emergency regime due for ministers and heads of government agencies to organize activities in December
29.11.2016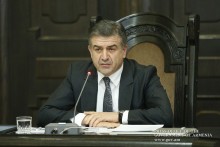 Prime Minister Karen Karapetyan held a consultative meeting with the ministers and the heads of government agencies to review their last two-month performance reports.
Noting that the reports should mainly focus on real changes, Karen Karapetyan said, "An emergency regime shall be established for the ministers and the heads of government agencies to organize activities in December, sum up the year and draw up a plan for the coming year."
The Premier also emphasized the need for public accountability, proper performance of assignments, as well as the discussion and processing of all suggestions and complaints received through the "hot lines."
Minister of Finance Vardan Aramyan reported that the work done in the period under review was aimed at drafting the State budget law for 2017, ensuring increased transparency in the public finance management system.
Justice Minister Arpine Hovhannisyan's report highlighted that two of the proposed anticorruption packages – the bills on illicit enrichment and restricted cash transactions - were approved by the government and submitted to the National Assembly. Introduced was the one-stop-shop principle. In particular, single-operator offices have been launched involving private entities. The Minister advised that three other single-operator offices will have been commissioned in the provinces by this yearend.
Efforts made to enhance transparency in school director election process
Minister of Education and Science Levon Mkrtchyan dwelt on the drastic amendments made to the law on higher education, including organization, credit system and academic arrangements.
It was reported that as instructed by the head of government, changes had been made to school regulations in order to increase transparency in the process of school director election and significantly discharge high school programs. Pilot online lessons had been held on a weekly basis in compliance with another instruction issued by the Prime Minister.
Major changes in this field are due over the next few months, with steps underway to introduce a system of business and private enterprise teaching in general schools.
In this context, Prime Minister Karapetyan voiced a number of questions. "What are we doing in order to bring higher education in line with international standards? How can we ensure that the selection of school principals runs properly so that this system is managed by the right people? What should be done to ensure that children in Armenia could speak three foreign languages? How are we going to provide them business courses? Which is the way to achieve that children in rural areas are not deprived of education?"

An investment program collecting hub already available
Minister of Economic Development and Investment Suren Karayan said that over the past few months an institutional platform for dialogue with the business sector has been created covering tourism, industry, exports, investments, in particular, as well as diamond processing and jewelry making. An investment program collecting hub is already available, and six investment projects have already been received.
International forums and exhibitions have also been held; as a result, 45 cooperation arrangements will be signed soon. In addition, major agreements were reached during the visit paid to our country by the leaders of Metro Group international network.
"We all need results," the Prime Minister said and asked about what has been done for the past two months to solve the business-related problems.
Suren Karayan noted that the diamond processing industry has been significantly activated and raw materials are now much more accessible as a result of negotiations with ALROSA. In addition, a number of companies were assisted to enter the EEU market without hindrances. National regulations have been developed for approval in member States. At the same time, a set of 20 investment projects is available in the tourism sector aimed at increasing the attractiveness of target destinations.
Ideas should be circulated in a way to make business take interest in culture
Taking the floor, Culture Minister Armen Amiryan spoke about the activities of cultural facilities, which will be given a special relish next year. "We need a non-standard way to achieve a breakthrough. Ideas should be circulated in a way to make business take interest in culture," the Prime Minister said urging the business circles to get involved in cultural projects.
Head of State Urban Development Committee Narek Sargsyan reported that investment projects have been collected and a list of specific investment projects will be submitted to the government along with a strict timetable.
Head of General Department of Civil Aviation (DGCA) Sergey Avetisyan advised that POBEDA budget air carrier will commence regular flights from Gyumri airport starting this December.
At the same time, he reported that a record figure for passenger traffic will be recorded in 2016 that will exceed the threshold of 2 million. According to him, this is quite a high figure given the fact that a sharp drop was stated in April. Armenia has not boasted such a result since 1991-92. It was also noted that the growth was mainly due to increased incoming traffic.
State Revenue Committee Chairman Vardan Harutyunyan noted that all of the activities ordered by the head of government were in process: the public at large will soon see the steps carried out in the customs and tax spheres. As of December 1, businesses will be able to use the form N 87, so that no longer businessmen will have to come to Yerevan from the regions in order to address certain issues. Also, underway is the introduction of the one-stop-shop principle in the SRC system in cooperation with the State Food Security Service.
24 investment projects received following Prime Minister's visits to the provinces
Minister of Territorial Administration and Development Davit Lokyan said the process of community consolidation is still on resulting in the merger of some 140 settlements nationwide. Also, underway is the process of formulating development strategies for individual regions and five-year development programs for communities. Steps were taken to transfer part of municipal services to the private sector, including waste management and lighting.
Consolidated community support programs are being implemented by international agencies, and 52 pieces of agricultural machinery will soon made available to enlarged communities.
Mr Lokyan also advised that 24 investment projects were received following Prime Minister's visits to the provinces. 6 investment projects in the agro-processing sector will be complete by this yearend.
USD10 million will be saved as a result of Yerevan TPP restructuring plan
Minister of Energy Infrastructures and Natural Resources Ashot Manukyan noted that successful efforts are being made to refurbish the Yerevan TPP. As a result the plant's capacity will be up 7 megawatts, with a 1-cubic-meter saving of specific gas consumption. The application of new technology will help reduce to 4 from the projected 6 years the interval between capital repairs. As a result, it became possible to save USD10 million.
Also, specific dates have already been assigned for the receipt of bids under the Armenia-Georgia power transmission line project. It is expected that construction will start next year. Negotiations led to the resumption of work on Armenia-Iran power transmission line as of this September. Construction of the aforementioned power transmission lines will be complete in 2019.
The grapes procurement reimbursement process continues
Agriculture Minister Ignatius Arakelyan reported that underway is the process of repayment of grapes procurement-related debts accumulated since last year. In particular, the indebted processing entities had already reimbursed 211 million drams out of a total of 820 million by September, 2016.
Measures have been implemented to ensure the sales of agricultural products, the export of meat products from Armenia to Iran, as well as to recover the arrears in fertilizer and seeds procurements. Several meetings were held with the business circles with a view to boosting investment programs. This week the government will be presented the strategy for agricultural development.
Competition and transparency should be enhanced in healthcare
Healthcare Minister Levon Altunyan said that AMD1.8 billion will be saved as a result of optimization activities. According to the Minister, revised were the prices for unconventional services and services provided as part of the welfare package in order to bring them down. In particular, reasonable market prices will be proposed to healthcare facilities.
The Prime Minister attached importance to the involvement of branded companies in Armenia's health sector. Karen Karapetyan urged those responsible to get the commitment of those private entities managing health facilities in Yerevan to take on the management of regional healthcare institutions.
"We need to step up competition in the field of healthcare, increase transparency and monitor the medicines market," the Prime Minister emphasized.

PM believes it necessary to break down the motivational field for vulnerability
Minister of Labor and Social Affairs Artem Asatryan noted that problems exist with regard to disability pensions, for which as instructed by the Prime Minister, a pilot registration system will be tested in January: "We have already developed a proposal that does not automatically make the retired citizens, but especially it comes to the third group of pensioners. Services and care they need shall be evaluated to ensure the receipt of these services. They will hardly tend to be registered as disabled after getting such services," Mr Asatryan said.
In response, Prime Minister Karapetyan pointed out, "What do we expect of you? First of all, to be as open and transparent as possible: no money will be given to anyone non-eligible. It is necessary to break down the motivational field for vulnerability."
During the meeting, reports were delivered by the heads of the following agencies: Ministry of Foreign Affairs, Ministry of Defense, Ministry of Nature Protection, Ministry of Diaspora, Ministry of Transport, Communications and Information Technology, Ministry of Emergency Situations, Ministry of Sport and Youth Affairs, State Committee on Immovable Property Cadastre by the Government, National Statistics Service, State Property Management Department, State Water Management Committee by the Ministry of Energy Infrastructures and Natural Resources, State Tourism Committee by the Ministry of Economic Development and Investment.