News
PRESIDENT INVITED A MEETING ON THE MACROECONOMIC DEVELOPMENTS IN ARMENIA AND INDICATORS OF THE STATE BUDGET FOR YEAR 2017
25.11.2016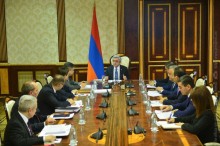 President Serzh Sargsyan invited today a meeting on the macroeconomic developments in Armenia and indicators of the state budget for year 2017. Minister of Finance Vardan Aramian presented the expectative and macroeconomic annual indicators for year 2016, state budget streams, including budget revenues and expectative indicators of spending, deviation from the programed indicators and pertinent explanations. The Minister of Finance presented also this phase of the draft state budget for year 2017, existing risks, possible scenarios to manage them as well as gave information on the proposals with regard to the state budget 2017 received in the wake of the discussions at the National Assembly.
Present at the meeting were Prime Minister Karen Karapetian, Vice Prime Minister, Minister for International Economic Integration and Reforms Vache Gabrielian, Head of Presidential Administration Armen Gevorkian, Chairman of the RA Central Bank Arthur Javadian, Minister of Finance Vardan Aramian, Chief Advisor to the President Aram Gharibian, Head of State Revenue Committee Vardan Harutyunian, First Deputy Minister of Finance Atom Janjaghuzian, Deputy Head of State Revenue Committee Vakhtang Mirumian.
The President of Armenia invited attention of the participants of the meeting to the enhancement of the economic growth, certain issues aimed at reducing risks related to the implementation of the budget, and gave pertinent instructions.