News
Prime Minister, Chinese Ambassador discuss issues on further development of bilateral relations
25.11.2016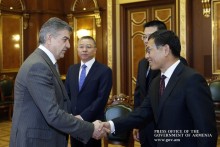 Prime Minister Karen Karapetyan received today PRC Ambassador Extraordinary and Plenipotentiary to the Republic of Armenia Tian Erlong.
The Premier pointed to the need for continued expansion and intensification of relations with China and noted that concrete steps should be taken towards the realization of the existing great potential for further development of economic cooperation.
Karen Karapetyan pointed out the possibility of Chinese companies' involvement in a number of infrastructure projects in our country and added that the Government of Armenia is ready to discuss in all detail any such proposal as the Chinese side may make. According to him, Armenia can become an important platform for Chinese companies in terms of access to third countries.
Tian Erlong said his mission is to contribute to the development of Armenian-Chinese relations and added that special attention should be paid to the deepening of economic cooperation in different directions. The Ambassador assured that he will convey the Prime Minister's message to his country's government.