News
PRESIDENT SERZH SARGSYAN RECEIVED THE CO-RAPPORTEURS OF THE PACE MONITORING COMMITTEE FOR ARMENIA
23.11.2016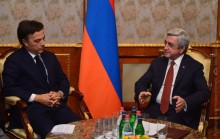 President Serzh Sargsyan received today the Co-Rapporteurs of the PACE Monitoring Committee for Armenia Alan Meale and Guiseppe Galati.
The President of Armenia stressed the importance of the meetings with the monitoring mission, which have acquired a regular nature. According to the President, such meetings allow to refer to the process of reformation in Armenia, results registered in this period of time, as well as to listen to the assessment of the people well-versed in the European system of values and their unbiased opinion. The President highly praised the role of the Co-Rapporteurs in the monitoring of the reforms carried out in Armenia and expressed gratitude for their work.
The Co-Rapporteurs noted with satisfaction that progress aimed at the establishment in Armenia of parliamentary democracy is rapid and is being implemented consistently, though in their opinion there are still some minor issues to address. "Mr. President, your role in moving forward democratic processes in Armenia has been very observable indeed. On behalf of the Council of Europe we would like to invite you officially to visit the Council of Europe and speak at the PACE about Armenia," said the Co-Rapporteurs of the PACE Monitoring Committee for Armenia. The President of Armenia accepted the invitation with gratitude and underscored that it would present a good opportunity to present from that high podium works carried out in Armenia and existing problems.
At the meeting, the parties spoke about the forthcoming parliamentary elections in Armenia, works aimed at the synchronization of the legislation after the amendments introduced to the RA Constitution, development of Armenia's cooperation with the CE and in this contexts highlighted the importance of launching Council's new program of actions.
The President of Armenia and Co-Rapporteurs also exchanged views on the NK peace process.