News
The treaty on Argavand-Shirak road construction has been signed
24.03.2016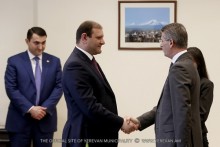 The treaty on the construction of the road Argavand-Shirak has been signed between Yerevan Municipality and Italian «Serenissima Construzioni» company. The construction is to be carried out within the frames of the program of western by-pass road construction.
The treaty was signed by Yerevan Mayor Taron Margaryan and the president of the company recognized winner of the competition Alberto Brentagani. Attaching particular importance to the construction of the new road Mayor Taron Margaryan stressed that it would play an important role in traffic relief in the center of the capital.
The president of «Serenissima Construzioni» company Alberto Brentegani noted that it's the first time they are going to carry out activities in Yerevan and assured that they would their best to finish the work in accordance with the schedule and to provide appropriate quality. It should be noted that the treaty includes construction of a new metal bridge of 257 meters length across the Hrazdan river and the construction of a new two-way traffic road of about 2.7 km. Under the bridge a permanent filter for water and oil will be placed to prevent oil inflows into the river. The new road will have a carriageway of 24 m width with 4-6 traffic zones. The duration of the activities is 24 months. Tnew LED street lamps corresponding to international standards will be installed along the new road.