News
ARMENIAN-GEORGIAN HIGH-LEVEL NEGOTIATIONS TAKE PLACE IN TBILISI
30.10.2015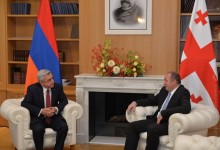 President Serzh Sargsyan, who has paid a working visit to Georgia, had a meeting today with Georgia's President Giorgi Margvelashvili. The two heads of state discussed the agenda of high-level Armenian-Georgian relations, outlined new prospects to push them forward, and touched upon the ongoing programs aimed at promoting collaboration in, inter alia, political, economic and humanitarian spheres. Presidents Sargsyan and Margvelashvili attached importance to promoting continued cooperation between Armenia and Georgia within the frames of different integration processes in order to implement mutually beneficial projects both in bilateral and multilateral formats.
The two heads of state also exchanged views on regional issues and challenges, stressing the importance of the region's stable, peaceful and secure development and the cooperation to that end.
Serzh Sargsyan and Giorgi Margvelashvili summed up the meeting results in their press statements.

Press Statement by President Serzh Sargsyan on the Results of the Meeting with Georgia's President Giorgi Margvelashvili

Distinguished Mr. President, dear Giorgi,

First of all, I would like extend my sincere thanks for the warm welcome.

Dear colleagues,

I am very delighted that during this working visit we have thoroughly discussed with President Margvelashvili the key items on our agenda and outlined new prospects to push forward our multifaceted bilateral cooperation.
I am confident you know that during this visit I will also take part in the re-consecration ceremony of the newly-renovated Armenian Cathedral of St George located in Old Tbilisi's historical area. I extend my gratitude to Georgian authorities for their support of that sanctuary's restoration works. In our turn, we, too, demonstrate a caring attitude towards the Georgian cultural heritage in Armenia the improvement works of which are currently underway. I strongly believe that only by this way, that is demonstrating a caring attitude towards each other's cultural heritage, we can preserve and multiply our achievements.
Returning to our interstate agenda, I have to express my satisfaction with the fact that in recent years Armenian-Georgian relations have undergone dynamic development and have entered a qualitatively new stage. This is vividly illustrated by the active high-level political dialogue and reciprocal visits between our countries. I would also like to emphasize that the strengthening of bilateral relations is carried out in an atmosphere of full mutual trust.
We also discussed with Mr. president those strategic projects to which both of us are committed. I would like to stress the construction of the "Friendship Bridge" on the Bagratashen-Sadakhlo border. I am confident that we will make concerted efforts to bring that and all the remaining programs to their successful close, thereby creating additional incentives for the progress and economic growth of our countries.
There is no doubt that both Armenia and Georgia possess the necessary potential to deepen their economic cooperation, by fulfilling the obligations enshrined in interstate documents. Moreover, I do believe that our countries' involvement in different integrational organizations add new dimensions to our comprehensive cooperation, thereby outlining new horizons for the implementation of mutually beneficial bilateral and multilateral programs.
Last time, at this same hall we agreed with Mr. president that Armenia's membership in the Eurasian Economic Union and Georgia's accession to the EU Association Agreement will not have a negative impact on our economic relations, but will only have a positive impact. And now I am glad to state that in 2014 we had a trade growth, and we can witness the same tendency for the nine months of 2015.
Of course, we also discussed with Mr. president issues of regional importance. It is important to underscore that our mutual understanding in such issues is first of all conditioned by the acknowledgment of the supremacy of the Armenian-Georgian brotherhood, as well as by our ability to think long-term. Furthermore, the active interstate dialogue anchored in our peoples' deep ties creates serious prerequisites to outline new dimensions for comprehensive partnership.
Concluding my speech, let me once again thank for the warm welcome extended to my delegation in this hospitable land.