News
The youth organization of the Republican Party, even in the midst of the holiday continues to be active in the international platform
01.08.2015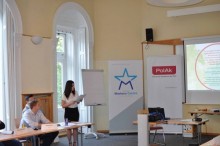 The annual meeting of the European Pupils Association is being held in Vienna, where Armenia and the RA Pupils Councils are represented by a member of the RPA Youth Organization Yelena Piliposyan.
The European Pupils Association (EUPAS) is an organization uniting pupils of Europe, which deals with educational issues. It gives an opportunity to several national pupil organizations for strengthening and development of cooperation and communication. By exchanging information and initiating discussions about educational issues the European Pupils Association develops solutions for those same. It also wants to enthuse pupils for democracy and participation in the meaning of political education.
At the annual meeting of the European Pupils Association the member of RPA Youth Organization has already made a report on "RPA Youth Organization and Pupils autonomy in the Republic of Armenia". She spoke about the structure, peculiarities of the RA Educational system, current projects and activities carried out by the RPA Youth Organization in this sphere.
We should note that participation in this meeting is of great significance for the Armenian pupils, since it provides a platform for raising and solving educational issues at the international level.