News
PRESIDENT SERZH SARGSYAN RECEIVES PRESIDENT OF EUROPEAN COUNCIL DONALD TUSK
20.07.2015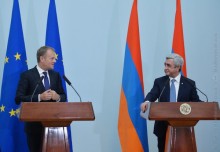 President Serzh Sargsyan received today the President of the European Council (EC), Donald Tusk, who has arrived in Armenia on a regional visit.
After bilateral negotiations, there took place a joint press conference of the RA president and the EC president during which Serzh Sargsyan and Donald Tusk delivered a press statement and responded to questions from the journalists.
During the negotiations, the interlocutors touched upon RA-EU relations and their current cooperation, as well as the Nagorno-Karabakh peace process.
The parties also reflected upon regional issues. The Armenian president welcomed the agreement on the Iranian nuclear program.
Stating that some progress has been made as a result of tough negotiations on the Greek crisis, President Serzh Sargsyan expressed the hope that the issue will be addressed quickly, taking into account the interests of the parties. Serzh Sargsyan stressed that Armenia favors both stability in the EU, a key partner of our country, and the normal development of Armenia's centuries-old friend, Greece.
At the meeting, Donald Tusk noted that he is glad Armenia has initiated a process of constitutional amendments based on law, and asked the RA president to present the goal of the amendments and his assessment of the process.
During the press conference, the RA president and the EC president summed up the other topics discussed at the negotiations.