News
PRESIDENT RECEIVES AAA BOARD OF TRUSTEES CO-CHAIRMAN ANTHONY BARSAMIAN
23.06.2015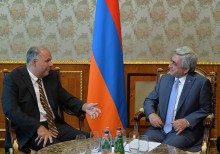 President Serzh Sargsyan received today Anthony Barsamian, Co-Chairman of the Board of Trustees of the Armenian Assembly of America (AAA). AAA regional director Arpi Vartanian and Board of Trustees member Raffi Kassarjian also attended the meeting.
The interlocutors touched upon issues of pan-Armenian importance, the efforts of Armenian authorities, different diaspora-based Armenian organizations, political forces, and of Armenia's friends to deal with those issues, upon dynamically developing Armenia-U.S. relations, the opportunities to reinforce and enhance them and upon a number of other issues.
The RA president and the AAA representatives agreed that owing to concerted efforts and coherence, this year it became possible to hold a series of Genocide Centennial commemorative events vital to all Armenians in Armenia and different countries of the world. Serzh Sargsyan and AAA Board of Trustees Co-Chairman Anthony Barsamian attached great importance to the events held all over the world, from the ecumenical prayer to commemorate the Armenian Genocide at Washington National Cathedral and the Mass for the faithful of the Armenian rite led by His Holiness Pope Francis at St. Peter's Basilica to the events which took place in Yerevan and numerous foreign cities inhabited by Armenians.
The Armenian president welcomed and greatly appreciated the patriotic activities of the AAA and all those Armenian organizations, institutions and individuals who are involved in the development of Armenia and in tackling the issues of national importance.
The AAA Board of Trustees co-chairman assured the president that the assembly will continue to cooperate with all Armenian organizations and political forces for the benefit of Armenia and all Armenians. He noted that the assembly is ready to push forward and further deepen friendly and partner relations between Armenia and the U.S. through new undertakings and ideas. In that context, the parties reflected upon bilateral trade and economic relations. They attached value to the Trade and Investment Framework Agreement concluded during the RA president's visit to the U.S. which will pave the wave for mutual trade and attraction of new U.S. investments to Armenia.
President Serzh Sargsyan greatly appreciated the current level of political dialogue between Armenia and the U.S., stressing that the two countries enjoy a close partner relationship both in bilateral and multilateral formats.
The president thanked the U.S. government for supporting Armenia's economic development, multi-sectoral reforms and democratic and civil society consolidation for many years targeted at the strengthening of RA statehood.
Serzh Sargsyan also placed great value on the U.S. role in the maintenance of regional security and stability, including the U.S. active involvement in the NK peace process as a OSCE Minsk Group Co-Chair country.