News
The European Bank for Reconstruction and Development is going to extend a loan for the realization of the program of street lighting in Yerevan
11.05.2015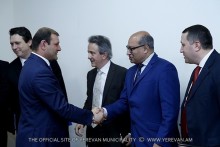 The Republic of Armenia and the European Bank for Reconstruction and Development (EBRD) have signed the credit agreement "Yerevan city lighting".
The credit agreement was signed by the RA Minister of Finance Gagik Khachatryan and the President of the EBRD Suma Chakrabarti. The agreement on the program support was signed by the EBRD President and Yerevan Mayor Taron Margaryan, and the agreement of the program was signed by the EBRD President and the director of CJSC "Yerevan city light" Vardan Gabrielyan.
The aim of the program is to create the system of energy saving and safe external lighting in Yerevan. In particular, the program provides for replacement of road posts in 28 city streets, underground cable laying, using energy saving lamps as well as installation of the system of automatic management.